CCJ LAUCNHES NEW POROGRAM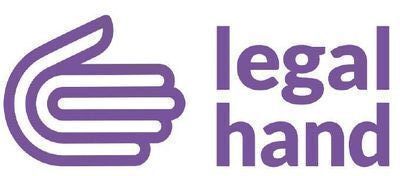 THE CENTER FOR COMMUNITY JUSTICE  LAUNCHES LEGAL HAND CALL-IN CENTER JANUARY 3, 2022
THE LEGAL HAND CALL-IN CENTER SERVING SCHENECTADY AND ALBANY COUNTIES
THIS INNOVATIVE COLLABORATION BETWEEN THE CENTER FOR COMMUNITY JUSTICE AND LEGAL HAND, INC,  OFFERS RESIDENTS OF ALBANY AND SCHENECCTADY COUNTIES FREE LEGAL INFORMATION, RESOURCES, AND REFERRALS FOR A WIDE RANGE OF ISSUES AFFECTING PEOPLE'S LIVES. WHETHER THE ISSUE IS HOUSING, DOMESTIC VIOLENCE, IMMIGRATION OR SOCIAL SERVICE BENEFITS, THE LEGAL HAND CALL-IN CENTER SERVING SCHENECTADY AND ALBANY COUNTIES PROVIDES THE LEGAL INFORMATION REQUIR3ED TO PREVENT A  RESOILVABLE LEGAL  FROM BECOMING A DIFFICULT LEGAL PROBLEM . 
AS WITH ALL OUR VOLUNTEER DRIVEN PROGRAMS, THE LEGAL HAND CALL-IN CENTER SERVING SCHENECTADY AND ALBANY COUNTIES RELIES ON NEIGHBORS HELPING NEIGHBORS. TRAINED VOLUNTEERS  STAFF THIS VIRTUAL CALL-IN CENTER BY WORK OUTING OF THEIR HOMES. LEGAL HAND PROVIDES THE INFORMATION THEY NEED TO BEGIN THE JOURNEY THAT WILL PREVENT PROBLEMS FROM TURNING INTO LEGAL ISSUES.
VOLUNTEERS WILL RECEIVE A FREE LAPTOP TO USE DURING THEIR VOLUNTEER HOURS AND MUST BE 18 AND LIVE OR WORK IN SCHENECTADY OR ALBANY COUNTIES
INTERESTED IN BECOMING A LEGAL HAND VOLUNTEER?
TO FIND OUT WHEN WE'RE HAVING OUR NEXT VOLUNTEER TRAINING
CONTACT
SCHENECTADYALBANY@LEGALHAND.ORG
FOR FURTHER INFORMATION ABOUT THE LEGAL HAND CALL-IN CENTER SERVING SCHENECTADY AND ALBANY COUNTIES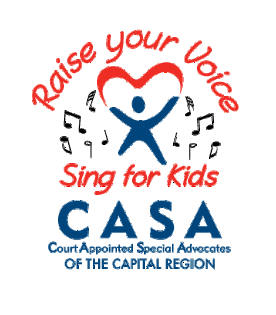 Second Chance Job Fair A Suceess
CCJ partnered with the Schenectady County Career Center to bring the Second chance Job Fair to town on January 30, 2020. Employers attending included Ellis Hospital, Golub Corporation, Brown Transportation, First Student, TSA, US Census, NYS Department of Taxation and Finance and the NYS Department of Transportation. Seventy job seekers came out to the fair, which was open to the public. Many of the people we work with who are reentering society after incarceration attended the event in the hopes of finding a job. We wish everyone who came out seeking employment the best with their job search.
There are many factors that go into a successful transition back into society, but a decent job is one of the most important factors in that transition.
---
Raise your Voice May 21, 2020 at Proctors
The fifth annual Raise Your Voice youth singing competition will occur at Proctors on May 21, 2020
25 Amazing vocalists will be competing in the Capital Region's premiere singing competition.
Madison VanDenburg, American Idol finalist and local vocal hero will emcee and sing at the event too!
CCJ Receives Three New Grants for 2020
The Center for Community Justice received three new grants starting January 1, 2020.
Our Court Appointed Special Advocate (CASA) program received a large grant from the New York State Office of Victims Services that will allow us to hire a Program Assistant for CASA. We're very excited because this will allow us to train and supervise more volunteers, and to help more children live without fear of abuse or neglect. This should be a very exciting year for CASA of the Capital Region.
The county of Schenectady has awarded CCJ two new grants. One grant will expand our Community Service Program. The other grant will increase the reach of the Ready, Set, Work! training CCJ already provides.
All three grants give CCJ important new opportunities to increase the reach and scope of our current programs in 2020. It's going to be a very busy new year.
Schenectady Basketball Star Willy Deane Honored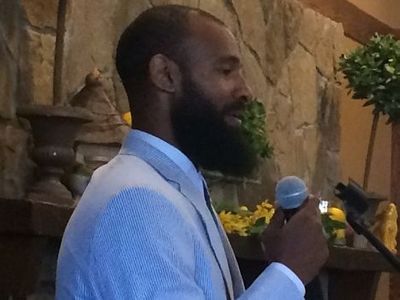 Annual Breakfast Honors Willy Deane Activism
At CCJ's annual 2019 breakfast at the Turf Tavern in Scotia honored Willy Deane for a lifetime of achievement on and off the court.
A former Schenectady High standout on the State Champion 1998 team, Mr. Deane became an international basketball star, winning several European championships, before retiring. Now Mr. Deane is heading into the next phase of life, having published the children's book called "Love."  He's given readings at local area schools and discussed the importance of reading and education with the students.
Deane's been giving back to the community for years. Before he retired Deane would return to Schenectady during the basketball off-season to assist his father, , with a summer basketball program for youth at Jerry Burrell Park in Hamilton Hill. The program gives kids plenty of time to hone their basketball skills on the court, while promoting education and instilling in interest in math, English and other academic subjects. 
"We teach through sports," Deane said.
Amazing Talent Showcased at 2019 Raise Your Voice! Vocal Competition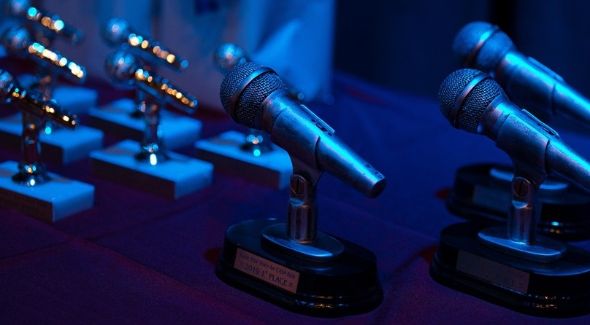 An amazing selection of youth vocalists appeared on Proctor's stage on April 25'th, competing to win the annual Raise Your Voice singing competition. All proceeds from this event benefited CCJ's CASA of the Capital Region program. CASA has helped thousands of abused and neglected youth find safe, permanent homes.
The quality of our contestants blew away the audience. While our 2017 Raise Your Voice winner Madison VanDenburg gained fame in 2019 with her riveting performance on American Idol, this year's performers were amazing as well.
This year so many of talented young vocalists applied that twice as many performers made it to the audition stage than we'd planned for. At the event, our judges had a difficult time picking the winners because the talent was that good. While we salute all the talented young people who competed on the Proctor's stage, we congratulate Raise Your Voice Winner Caitlin Tizzone, Blake Zardezad who took second and third place finisher Christina Regar.
Every year local luminaries donate their time and energy as judges and emcees and their work underlies Raise Your Voice's success. This year Dave Ahl and Renee Lussier-Ahl from award winning local country rock band Skeeter Creek emceed the show. Skeeter Creek's helped other worthy causes and as Dave told us, "Renee and I are honored to emcee at Raise Your Voice. We love to give back to the community especially when it involves kids. We donate a lot of time to organizations like HUGS, Make A Wish and, Families in Need of Assistance. So helping CASA is right in line for us."
CCJ would also like to thank our sponsors: The Times Union, Neal and Jane Golub, Pioneer Bank, Berkshire Hathaway Realtors, Mohawk Honda, Christian Brothers Academy, YMCA, Colonial Car Wash, Mediation Matters, Stewarts, & Adirondack Screen Graphics. With their help we were able to raise thousands of dollars for CASA of the Capital Region that will be used to help abused and neglected kids find safe homes.
2019 Raise Your Voice
Two time Raise Your Voice Winner and American Idol Finalist Madison VanDenburg

2019 Raise your Voice Winner Caitlin Tizzone

2019 Second Place Blake Zardezad

2019 RYV Third Place Christina Regar

Thank you to the makeup artists for donating their time.
You treated our contestants like stars

2019 RYV Emcees Dahl Ahl and Renee Lussier-Ahl
---
Daily Gazzette's Sara Foss interviews CCJ Staff about Ready Set Work! Trainingram and how it helps ex-offenders obtain employment.
REENTRY Program Works with Area Employers 
With help from a United Way grant, CCJ added job placement and job skills training to our Reentry Program in an effort to help individuals with one of the most important and difficult of transitions after returning to society from incarceration, becoming a part of the workforce.
When CCJ began offering job skills training in 2015 for our reentry program with the Schenectady County Reentry Task Force, only a few county task forces had this kind of program. But within a year the State of New York, the funder of the county task force initiative, saw how effective this training was and began requiring job skills training.
Since 2015 CCJ has helped place reentering individuals at firms like Price Chopper, Home Depot, Clynk Recycling, Moonlight Horticulture and restaurants throughout Schenectady County. During 2018 over 25 people completed our job skills training and were hired by local firms.
Bethany Pignatello-Cornier, the Associate Support Department Supervisor for Home Depot in Schenectady has worked with the CCJ Reentry Program for several years. In that time she's hired about 35 graduates of the CCJ Reentry Program. According to Ms. Pignatello-Cornier, more than two-thirds are still employed by Home Depot, several are now Department Supervisors and two are in the process of training to become Assistant Store Managers.
As the experience of Home Depot and these other Schenectady firms show, individuals reentering society after incarceration can succeed. If you or someone you know has a Reentry success story you'd like to share contact Tstaples@theccj.org by email or call us at 518-346-1281 and ask for the Reentry Program.
---
Friends of CASA Supports CASA of the Capital Region
In 2015 Friends of CASA started raising funds and awareness for CASA of the Capital Region. The first thing this  group of volunteers did was create the annual singing competition, "Raise Your Voice", on March 31, 2016 at Proctor's GE Theatre. In four years this singing competition has become the premiere event for young singers in the Capital Region to showcase their talents. One of our winners, Madison VanDenburg went on to star in 2019's American Idol season.
To find out how you can help contact rvaughn@theccj.org or call 518-346-1281 extension 330
 "Children have never been very good at listening to their elders, but they have never failed to imitate them"  
                                                                                                                                  ~James Baldwin
Please support our Court Appointed Special Advocates (CASA) program by volunteering whether it be helping out Friends of CASA or becoming a child's advocate. CASA volunteers help children who have been, or are at risk of being, abused and neglected. Be their voice!
They need you.
CALL FOR MORE INFORMATION!
Rhonda Vaughn, CASA of the Capital Region Director
The Center for Community Justice
144 Barrett Street
Schenectady, New York 12305
(518) 346-1281 x330
rvaughn@theccj.org
Albany County Family Court Judge Margaret Walsh Congratulates Newly Sworn-In CASA Volunteers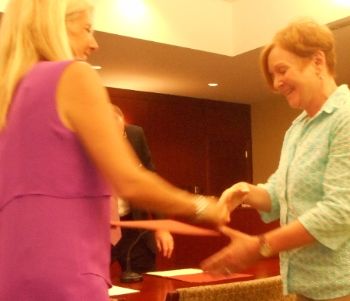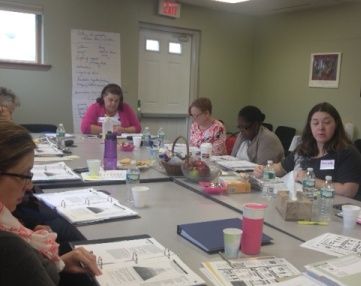 Potential CASA volunteers must complete a rigorous training followed by an apprenticeship. We thank everyone who's given of themselves to help children live a better life.
The initial training lasts for forty hours and each year CASA volunteers go to refresher courses to keep their skills honed and to learn about new developments in the field.
Daily Gazette Features CCJ's Community Accountability Board Program
The Daily Gazette Newspaper features The Community Accountability Board (CAB) at the Center for Community Justice
Community Accountability Boards allow low risk offenders who've committed minor crimes to make amends to their community and their victims. CABs are staffed by volunteers who meet with offenders and draw up contracts with the offenders. Contracts are tailored to the individual and include community service, restitution, and other stipulations. Contracts must be completed by the offender
The Community Accountability Board program needs Community Volunteers. For more information about CAB and volunteer opportunities and training, contact Cheryl Vallee at cvallee@theccj.org or call at 518-346-1281 ext. 300.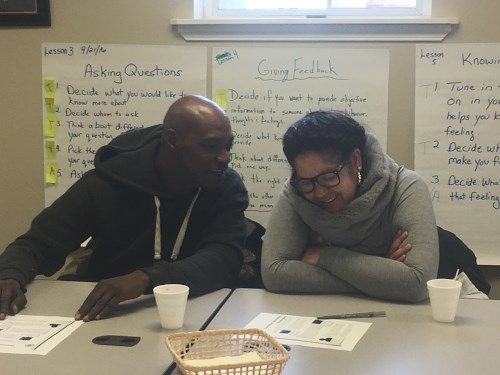 ---
Reentry Employer Breakfast hosted by the Unitarian Universalist Society Church in Schenectady
The Center for Community Justice and it's Reentry Program held it's first annual Employer Breakfast in 2015.  The breakfast was hosted by our friends at the First Unitarian Society Church in Schenectady.  Volunteers from the church provided a delicious breakfast which was enjoyed by all.  Several employers from different industries came to learn the benefits of hiring returning citizens.  Guest speakers from the NYS Department of Labor, the One-Stop Center and the NYS Department of Corrections and Community Supervision all came together to provide information and answer questions.
The first annual Employer Breakfast was held at the Unitarian Universalist Society Church of Schenectady.  Find out how this resource can help your business by contacting Tim Staples, Reentry Coordinator at tstaples@theccj.org or 346-1281 ext. 22.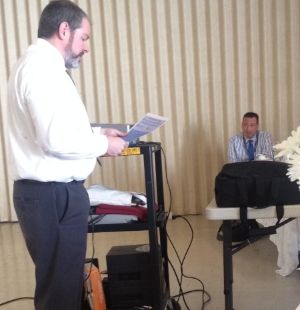 Tim Staples at Re-entry Breakfast
---
---