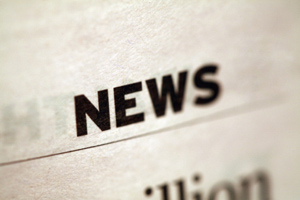 Raise Your Voice! Presents Amazing Talent April 25'th at Proctors
An amazing selection of youth vocalists will appear on Proctor's stage on April 25'th at 6:00 PM, competing to win the annual Raise Your Voice singing competition. All proceeds from this event will benefit CCJ's program, CASA of the Capital Region, which has helped thousands of abused and neglected youth find safe, permanent homes.
The quality of our contestants continually blows away audiences! 2017 Raise Your Voice winner Madison Vandenberg gained fame on this season's American Idol with her riveting performance. Performers like Madison have made Raise Your Voice the Capital Region's premiere youth vocal competition.
This year so many of talented young vocalists applied that twice as many performers made it to the audition stage than we'd planned for. Our judges had to work overtime to pick this year's finalists! Expect to be impressed and entertained because these kids have chops.
Every year local luminaries donate their time and energy as judges and emcees and their work underlies Raise Your Voice's success. This year Dave Ahl and Renee Lussier-Ahl of Skeeter Creek generously agreed to emcee the show. An award-winning country-rock band, Skeeter Creek recently won a contest to open for Randy Houser on June 1 at Utica's Frogfest. Skeeter Creek's helped other worthy causes and as Dave told us, "Renee and I are honored to be the guest MCs for Raise Your Voice. We love to give back to the community especially when it involves kids and donate a lot of time to organizations like HUGS, Make A Wish and, Families in Need of Assistance. So helping CASA is right in line for us."
CCJ would like to thank our sponsors: The Times Union, Neal and Jane Golub, Pioneer Bank, Berkshire Hathaway Realtors, Mohawk Honda, Christian Brothers Academy, YMCA, Colonial Car Wash, Mediation Matters, Stewarts, & Adirondack Screen Graphics 
Tickets are available directly from CCJ at 518-346-1281 ext 33 or by email rvaughn@theccj.org or through Proctor's box office by clicking the image below
Images of Past Raise Your Voice Contestents
Sara Foss interviews David Reali about our Ready Set WORK program and how it helps ex-offenders obtain employment.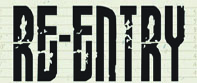 CCJ's REENTRY Program Helps Individuals Find Employment
REENTRY Program Works with Area Employers 
In 2014, with help from a United Way grant, CCJ added job placement and job skills training to our REENTRY Program in an effort to help individuals with one of the most important and difficult of transitions after returning to society from incarceration, becoming a part of the workforce.
When CCJ began offering job skills training in 2015 for our reentry program with the Schenectady County Reentry Task Force, only a few county task forces had this kind of program. But within a year the State of New York, the funder of the county task force initiative, saw how effective this training was and began requiring job skills training.
Since 2015 CCJ has helped place reentering individuals at firms like Price Chopper, Home Depot, Clynk Recycling, Moonlight Horticulture and restaurants throughout Schenectady County. During 2018 over 25 people completed our job skills training and were hired by local firms.
Bethany Pignatello-Cornier, the Associate Support Department Supervisor for Home Depot in Schenectady has worked with the CCJ Reentry Program for over three years. In that time she's hired about 35 graduates of the CCJ Reentry Program. According to Ms. Pignatello-Cornier, more than two-thirds are still employed by Home Depot, several are now Department Supervisors and two are in the process of training to become Assistant Store Managers.
As the experience of Home Depot and these other Schenectady firms show, individuals reentering society after incarceration can succeed. If you or someone you know has a Reentry success story you'd like to share contact Tstaples@theccj.org by email or call us at 518-346-1281 and ask for the Reentry Program.
May is National Supervised Visitation Awareness Month
When there are concerns for a child's safety or well-being, Supervised Visitation ensures that a child is able to maintain contact with a parent in a safe environment while the issues are resolved.  We need to raise awareness in all communities that children and families in these high-risk situations need well-trained and supported professional supervised visitation services.
 "Children have never been very good at listening to their elders, but they have never failed to imitate them"  
                                                                                                                                  ~James Baldwin
Please support our program with volunteering, gently used toys such as games, dolls and balls.   
CALL FOR MORE INFORMATION!
Pam Brucker
Director of Community Support Services
Supervised Visitation
The Center for Community Justice
144 Barrett Street
Schenectady, New York 12305
(518) 346-1281 x37
| | |
| --- | --- |
| "Reset a Child's Life" bowling fun for all ages | Some of the best bowlers are very little! |
| | |
Friends of CASA, a group of volunteers who came together to help raise funds and awareness of the Court Appointed Special Advocates of the Capital Region Program, hosted their first annual singing competition, "Raise Your Voice", on March 31, 2016 at Proctor's GE Theatre.
Friends of CASA Bowling Fundraiser- "Reset A Child's Life"
The Friends of CASA Committee hosted "Reset a Child's Life" bowling fundraising event on August 9, 2015 at Boulevard Bowl in Schenectady. If you are interested in joining Friends of CASA, please contact Rhonda Vaughn at rvaughn@theccj.org and if you want information about becoming a CASA Volunteer, please contact Lisa Weber at lweber@theccj.org.
Albany County Family Court Judge Margaret Walsh Congratulates Newly Sworn-In CASA Volunteers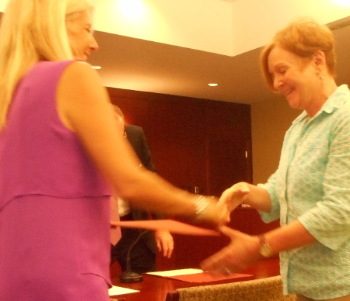 Seven people completed the 30 hour initial CASA volunteer training during the Spring 2015 training session.
CASA Volunteers Hard At Work During CASA Training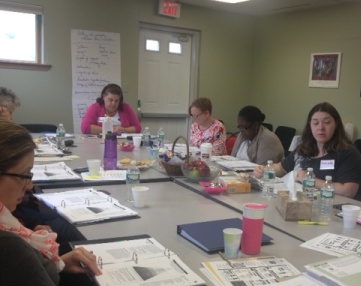 CASA Training May 2015
Community volunteers hard at work during CASA training at the Center for Community Justice.  Our next CASA training will take place during the spring of 2016.  Please contact Lisa Weber at lweber@theccj.org for information about the next training session.  If you do not have the time to volunteer for CASA and would like to help in other ways, please consider joining our Friends of CASA fundraising committee or helping during one of our events.  To join Friends of CASA, please contact Rhonda Vaughn at rvaughn@theccj.org.
Daily Gazette Features CCJ's Community Accountability Board Program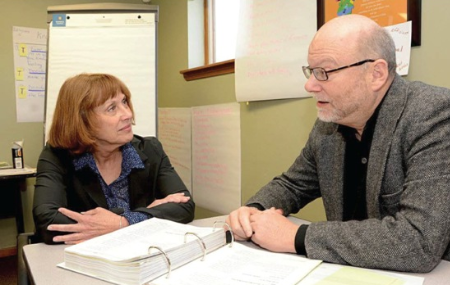 The Daily Gazette Newspaper features The Community Accountability Board (CAB) at the Center for Community Justice
To see the article click the link below!
http://www.dailygazette.com/photos/2015/apr/19/85176/
The Community Accountability Board need Community Volunteers.
For more information about CAB and volunteer opportunities and training, contact David Reali
email:   dreali@theccj.org
call:      518-346-1281 ext. 39
Reentry Employer Breakfast hosted by the Unitarian Universalist Society Church in Schenectady
April 2015 Employer Breakfast
During April, 2015, The Center for Community Justice and it's Reentry Program held it's first annual Employer Breakfast.  The breakfast was hosted by our friends at the First Unitarian Society Church in Schenectady.  Volunteers from the church provided a delicious breakfast which was enjoyed by all.  Several employers from different industries came to learn the benefits of hiring returning citizens.  Guest speakers from the NYS Department of Labor, the One-Stop Center and the NYS Department of Corrections and Community Supervision all came together to provide information and answer questions.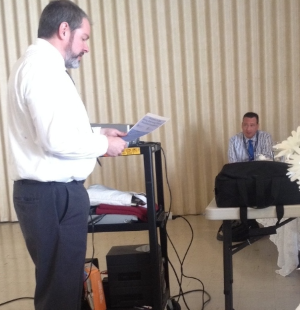 Tim Staples at Re-entry Breakfast
The first annual Employer Breakfast was held at the Unitarian Universalist Society Church of Schenectady.  Find out how this resource can help your business by contacting Tim Staples, Reentry Coordinator at tstaples@theccj.org or 346-1281 ext. 22.
CASA Hires Lisa Weber
Computer Lab donated by Auto/Mate Dealership Systems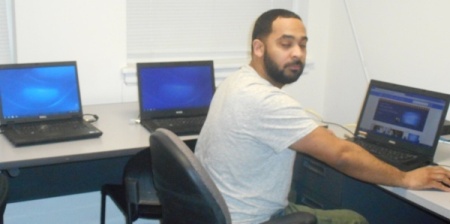 CCJ's Computer Lab
February 2015
Thanks to the generosity of Auto/Mate Dealership Systems, we now have a computer lab so that we can provide assistance for individuals searching for employment and working on their resumes.  For information, contact Tim Staples at 346-1281 ext. 22.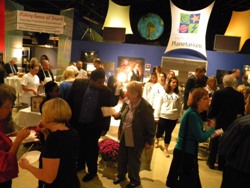 Small Bites for Big Changes Smashes Fundraising Goal!
October 15, 2014
The first annual Small Bites for Big Changes fundraising event at Schenectady's iconic miSci Museum of Science and Technology blew the doors off our fundraising goals. We beat our goal by over 30% and the event went off spectacularly. Those who attended Small Bites for Big Changes know the parking lot was filled beyond capacity, the food stations served amazing dishes which were donated by some of Schenectady's finest restaurants - see the list of participating restaurants below - and everyone had a great time.
The event was guided by the tireless efforts of board member Terri Jewell with help from the rest of the fundraising committee, as well as the staff and the board of CCJ. It takes a village to make a fundraiser work and we are so thankful to everyone who worked so hard to make 2014's Small Bites for Big Changes so successful.
Participating Restaurants
Apperitivo Bistro
Cornell's
Johnny's
Civitello's Italian Pastry Shoppe
Bel Cibo
Cafe Nola
Center Street Pub
Katie O'Byrnes
Perreca's
Turf Tavern
Marotta's Bar-Ristro
Schenectady County Community College
Images from Small Bites for Big Changes
| | |
| --- | --- |
| Thank you to everyone who donated gifts. There were nearly 60 items available. | Just one example of the mouth watering feast assembled for 2014's Small Bites for Big Changes. |
| Great Jazz! Thank you John! | |
| Jim Murphy receives a citation for community service from Mayor McCarthy. | |