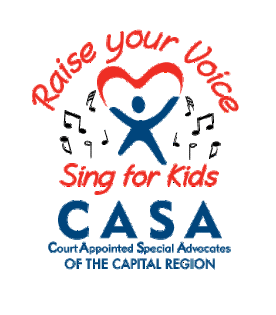 ATTENTION
Teens and Young Adults ages 13-21!
---
Do you Love to Sing?
Do you want to become the Capital Region's  Raise Your Voice Champions?
Raise Your Voice Singing Competition - Proctors GE Theatre 
To benefit CASA (Court Appointed Special Advocates) of the Capital Region 
April 26, 2018 at 6:00 pm
Solo or Duo Performers - Any Genre- No Profanity
Auditions: February 19, 20, 2018
4:30 - 9:00 pm at First United Methodist Church, 603 State Street, Schenectady
Top 20 will perform at Proctors for the chance to become the winners! 
                           Cash prize for the first, second, and third place singers at Proctors!
To schedule an audition or sponsor this event please call Rhonda Vaughn at the Center for Community Justice 346-1281 ext. 33
or Email rvaughn@theccj.org. Please plan to arrive 15 minutes before scheduled audition time.
Singers may be accompanied by prerecorded music or an acoustic instrument - no amplifiers will be permitted.